Earlier this year I have been invited to perform live by Borjan Grujić, a young designer behind
Porub
. Porub is an event that serves as a platform for local experimental/alternative artists involved in audio and visual media and it's commonly organized several times during one year. I've been there in the audience several times myself and that's how we got in contact in the first place. We've discussed getting together for one of the Porub evenings long time ago, yet I wasn't prepared in terms of technical issues and more important available material that could be done live. Luckily my dear friend
Abadroza
from our
Asino Elettronico
label stepped in without hesitation so we could make something together especially for this night.
Edited version of video showing the second half of the performance
The idea for us was also to finally break the ice and go out public, since none of us have had any experience in playing music live up until that moment. Abadroza threw aside his PC long time ago before I did even consider such a thing, so him being the beat master on his Korg EMX-1 was a no fail situation. I, on the other hand, challenged myself by acting out as a keyboardist with my new pet machine - old
Korg X3R
synth module controlled by a compact Behringer 25-key MIDI keyboard. I also filled up my Kaoss Pad 3 with a few vocal samples just to spice up what would have been an overly instrumental set.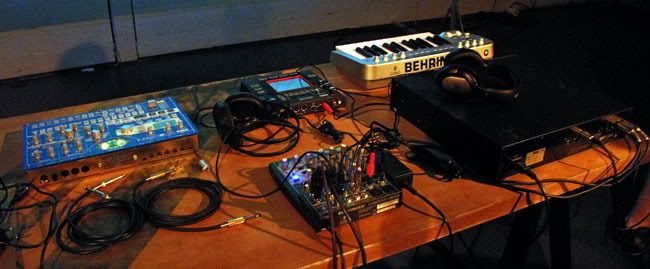 Some were curious about "that VCR look-a-like black box" (Korg X3R)
You can catch a glimpse of the atmosphere from the video posted here - it was really a great evening altogether, both for us and I'd daringly say for the audience as well. The giveaway CDs we've prepared and left in front of us were gone in matter of seconds right after we had finished, which leads me to think we did a good job on promoting the label as well. I may have made a few ugly sounding mistakes while playing keys and we've lost focus a bit here and there, but in the end it was really a
live
performance that is rarely seen (at least here) in electronic music and it got praise by virtually everyone who talked to us afterwards. What was the most important aspect of it for me personally is the fact the whole experience gave me a lot of motivation and confidence to push this "live performance" thing further with my own project. Surely I will miss head-nodding and knob-twiddling shoulder to shoulder with Abadroza, but there are some serious plans for all of us on the label to tour locally together so the fun sharing moments will always be there.
Special thanks to Ves for being there to support us and taking care to record the video.
August update:
Complete and unedited recording of the performance by Ves, as well as a report in Serbian and extracted mp3 file, here on
her blog entry
.